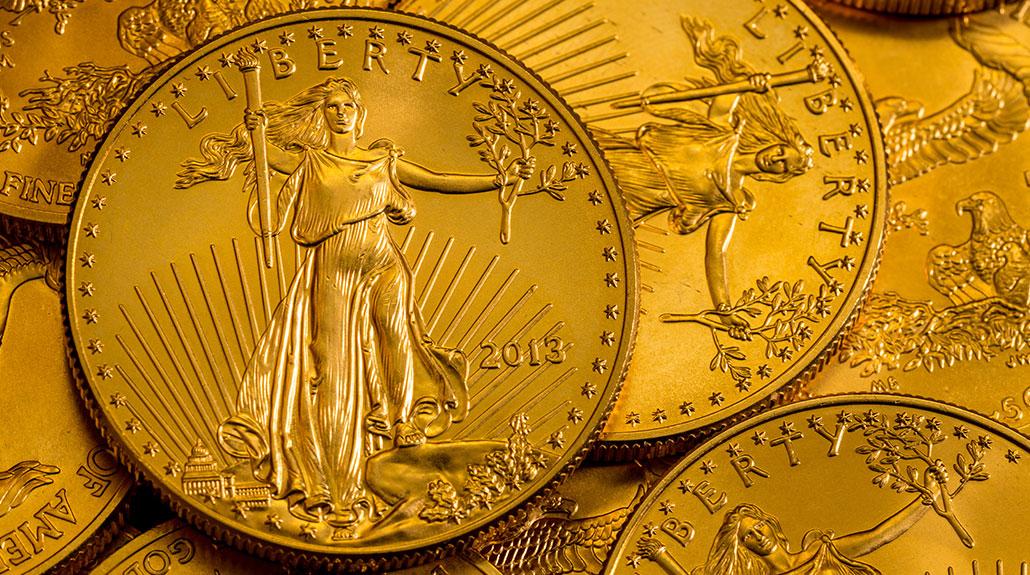 Compared to the real estate and stock market, gold coins are one of the most reliable and safest investments you can make due to their preservation of value over time. They can tide through inflation, deflation, and fluctuations and is a type of tangible asset that can be easily liquidated. Moreover, as the metal is high in demand in many industries, these gold coins tend to fetch a pretty high value and are a great way to diversify and widen your existing investment portfolio. In this article, we share the top five gold coins you should be investing in.
American Eagle
The Gold American Eagle is one of the most highly sought-after gold coins in the world due to its limited quantity. The American government releases a limited number of these coins annually. They all carry a lucrative legal tender value, with the one-ounce valued at 50 USD and the 1/10 ounce valued at 5 USD. Since its first release in 1986, the value of these coins has stood the test of time as they are made with 91.67% gold worth 22 karats, 5.33% copper, and 3% silver. The American Eagle comes in 1/10 ounce, ¼ ounce, ½ ounce, and one-ounce. These coins are backed by the American government and can be liquated, making them a valuable investment for any gold investor.
Chinese Panda
Since its debut in 1982, the Chinese Panda has become many investors' favorite gold coin to collect. With 2022 being its 40th year, the coin series has been one of the longest-running gold bullion programs, coming in second to Canada. The Gold Panda coins come in unique sizes and have limited mintage, making them one of the most valuable coins available in the market.
The coin's face usually features China's iconic national animal – the Giant Panda in different poses for each annual series. At the same time, the reverse usually portrays the revered and popular Temple of Heaven. The coins are made with .999 pure gold and are available in one-ounce, ½ ounce, ¼ ounce, 1/10 ounce, and 1/20 ounce (before 2016).
Canadian Maple
The Canadian Maple is one of the safest gold investments you can make due to its incorporated anti-counterfeiting technology on its surfaces. The gold coin is micro-engraved with images on its face and reverse, and each coin is documented and captured in high resolution by the Royal Canadian Mint. In addition, authorized dealers and distributors will have a special reader to verify the authenticity of the coins produced after 2013. Living up to its name as one of the finest gold bullion coins in the world, the Canadian Maple contains 99.9% pure gold and is one of the most highly sought-after by gold investors.
Austrian Philharmonic
The Austrian Philharmonic is backed and guaranteed by the Austrian Mint and is a low-mintage coin renowned for its beauty. The coin is available in 1/25 ounce, 1/10 ounce, ¼ ounce, ½ ounce, 1 ounce, and 10 ounces. Due to its scarcity and high demand, it is one of the most valuable coins that every gold investor should be looking out for. The obverse side showcases the musical instruments used by the country's Philharmonic Orchestra, which is considered the national treasure of Austria. The reverse side depicts the Great Organ in the Golden Hall in Vienna, an iconic site where the orchestra performs on their annual concert on New Year's Day. As the only gold bullion coin issued and minted in Euros, they are a great way to branch out into European currencies and diversify your portfolio.
British Britannia
There is no denying that British Britannia is one of the world's leading gold bullion coins. The coins were first minted in 1987 and released annually as a gold bullion collection. The 1-ounce Gold Britannia coin is estimated to have a face value of 100 GBP, making it one of the market's most competitive and highest values. The obverse side features an effigy of Queen Elizabeth II designed by Jody Clark, while the reverse side is Philip Nathan's design of the Britannia that is widely and globally recognized. The British government backed the coin, making this coin a must-have for every gold investor.
Your One-Stop Destination for Precious Metals in New York
At AGR, we offer you a fast and convenient way to liquidate your precious metals and sell your valuables while providing you true value for your money. For more than two decades, we have been a trusted buyer of gold, silver, platinum, and other types of metals. Our friendly team is available to provide you with the best advice and options to help you reach a satisfactory deal. We are also an authorized seller for gold, silver, and platinum bars, coins, as well as other limited mintage products.
For more information on our gold, silver, and platinum buying services and products, please do not hesitate to contact us at 212-391-1012.